Products - Toroidal transformers
See also: Quality and reliability | Environment
Toroidal transformers- Types and features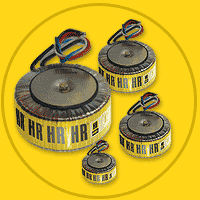 The standard range of HR toroidal transformers goes from 20VA to 1500VA. The dual secondary configuration, and the wide range of voltages let achieve with serial or parallel configuration any voltage needed.
The toroidal transformers have a lot more advantages than the conventional coated EI. Their use is highly recommend due to the assembly advantages, radiation, relation between volume and currency and other improvements named bellow:
Fast and easy assembly (1 only screw)
Compact construction, low height
Volume and height reduction of a 50% for the same voltage as EI serie
Minimum no-load loses
Low radiation level
No noises along life time
Better heat dissipation rate than EI serie
Better reliability
Vertical assembly with 'L' support(optional)
HR range
20 VA - 60 VA
80 VA - 250 VA
330 VA - 1500 VA
2000 VA - 3000 VA
Design and manufacture features
Designed and manufactured according regulations EN61558-1, EN60742
Double isolation copper wire
Thermal class materials B (130ºC/266ºF)
Ambient temperature of 40ºC/104ºF
Magnetic core of grain-oriented silicon steel.
Primary of 230V
Double secondary from 6V to 80V
Superior isolation at 5M at 500 Vdc
Primary Dielectric strength / superior secondary at 3 KV , 1min.
Winding identification for colour references
Assembly Kit included
Customised models available under request with this form.
Manufacturing process
All HR transformers work under real working conditions along the manufacturing process. The transformers support the reliability tests which prove their durability and keep all the functional parameters along their life term.
Our high level of automation and our wide experience in the inductive components manufacture, let us develop these transformers in robotic lines of assembly and control.