Products - Conventional transformers
See also: Quality and reliability | Environment
Conventional transformers- types and features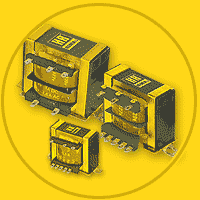 The range of standard HR conventional transformers goes from 2,5VA to 18VA, builded in primary for 125V and 220V. Them cover the wide range of classic transformers used in most of countries. In our standard range there are aviable the setups of simple, dual and center tapped secondaries for tensions from 4,5V to 24V.
Our assembly system and impregnation guarantees a mantaintment of the specifications of energy performance and funcionality what make outstand the HR transformer in the most reliable ones of this classic technology.
Design and manufacture features
Manufactured according regulations EN61558, EN60590, EN60742, UL 506, UL1585
Double isolation copper wire
Two-chamber coil
Coated with dried oven varnish class H (180ºC)
Thermal class materials B (130ºC/266ºF) or F (155ºC/311ºF) optionally.
Ambient temperature of 40ºC/104ºF
Primary of 125V-220V
Configurations of single secondary, dual secondary and center tapped.
Isolation Prim./Sec. superior at 5 MOhm at 500 Vcc
Dielectric strength primary / secundary superior at 3 KV, 1min.
Manufacturing process
All HR transformers work under real working conditions along the manufacturing process. The transformers support the reliability tests which prove their durability and keep all the functional parameters along their life term.

Our high level of automation and our wide experience in the inductive components manufacture, let us develop these transformers in robotic lines of assembly and control.
>>
Know HR product values